! Viewing the source are we? !> <! !> <! Have you discovered that the panther Tracks are clickable Links? !> <! How about the Pie Symbol from the movie "THE NET"? !> <! !> <! Maintained by THE CAT MIDWEST Edina, Minnesota !> <! Please send comments and Suggestions to "thecat@spytaps.com" !>
When you don't know
where to turn, call....


"Your Information Specialists"
---
Hire THE CAT! We prowl the USA Locating MISSING PERSONS, Hidden Assets, and conducting Background Checks for business and individual clients.

We've earned our National reputation by consistently providing quality Services on a timely basis. We're easily the best Information Specialists in America.

We make your mission possible.

..... "Out of all the Information Companies we've worked with - and its alot - yours is the BEST!"
........................ - S.Davidson, Loveland CO

"The Cat Midwest is one of America's Top Information Specialists." ............. - Press Club







Call Us Now





Toll Free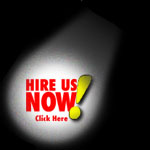 If you have any additional questions, please send e-mail to us at:


   thecat@spytaps.com    ...................................           SUGGESTIONS WELCOME!

---
Images and Content © Copyright 1993, 2003 THE CAT Midwest. All Rights Reserved. All Wrongs revenged. Images are DIGIMARCED. Do NOT use these pictures on your site or you will be traced.

This Site was last updated 7/2003 but WebSite established 1993.